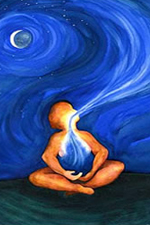 Since the ancient times people knew the importance of breath. Breath was equal to life. Also since the prehistoric times people knew that the way we breathe is greatly affected by our emotions and external conditions. This is why since the ancient times people tried to find the way to reverse this link, so by controlling the breath they would control emotions and reactions to the outer world. You can find those techniques in hat-ha yoga, Daoism and many other very old practices. Most of those techniques require months and years of study and hardly can be practically used in the modern world. Circular Breathwork is a unique blend of this age old knowledge and contemporary science applied to the modern lifestyle. The circular breathwork is an exclusive and effective technique of achieving good health, emotional balance and personal growth in today's world. The program of this workshop includes:
Ancient and modern knowledge on Breathing Process
Esoteric aspects of Breathing
Circular Breathing and its advantages
3 types of Circular Breathing
5 elements of Circular Breathing
Circular Breathing for Healing
Body of emotions and full relaxation
Passive and active techniques of Circular Breathing
Eye-to-eye and mirror techniques of Circular Breathing
Warm and cold water techniques of Circular Breathing
Momentum and linear times for the breathing process
Many more practical applications and techniques.
Class is limited to 10 students. No prerequisites are required. Please have yoga mat, small pillow and a blanket with you.
Available at Holistic Care Group, 1693 Beacon St, Brookline, MA 02445.
For more information and updates please call 617-879-1880.