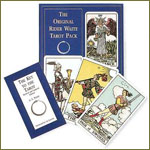 Requires Basic Esoteric Teachings, level 2 (Esoteric Philosophy of Tarot). We do not consider Tarot reading a form of prediction. Rather, it is a gift of personal freedom that helps you gain a better understanding of situations and relationships and helps you find the best ways to deal with them.
Philosophy of Tarot reading and why it works.
Meaning of tarot cards in the spread.
Aspects between Tarot cards in the spread.
Thee card spread.
Celtic Cross spread.
H-spread for relationships.
Other spreads, you can use.